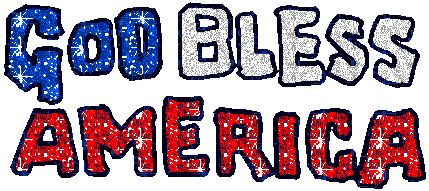 Happy Memorial Day--if there is such a thing when you think about the men and women that died for our country. Thank the Lord for their willingness to serve the
United
States
of
America
.
This weekend has seemed long. That is rare in our home. Usually the weekends fly by. It will be a short week for Olaf as he is taking Friday off for his stress tests. Hopefully all will go well with that.
We have kind of been on a Ben & Jerry's kick lately. Blame it all on Cheri. I wouldn't normally buy Ben & Jerry's because they are SUCH commie libs that I HATE to support them. However, when she mentioned a flavor called Oatmeal Cookie Chunk, I relented. Oh my goodness! Is it heavenly. Since then we have tried, Everything but the..., Pistachio, Pistachio (YUM!), The Godfather, and Chunky Monkey. It's on sale at Kroger this week for $2.50. Do you know that they have about 19 grams of fat for 1/2 cup??? What the???? Who eats only 1/2 cup of that stuff? The entire container is 2 cups, so if you eat the whole thing (like me) then you get 56 grams of fat ALL AT ONCE! That is about twice as much as a Big Mac. Lawdy he'p me!
I tried to do one of my FIRM DVD's today. It started skipping toward the end. I called their customer service (Goodtimes) and told them about it and they are sending another out to me. That made me happy. It is a really tough cardio workout and I rarely do it. They only use three pound weights in it and focus ALL on cardio. I am sucking wind at the end.
I am totally PMS'ing this week. My hormones are crazy and I have about one nerve left in my entire body. I am trying to keep my flesh under control but it is even harder than normal when the hormones rage. My poor poor family:) Pray for them.
Have I ever said how dern cute my children are? They are all so cute! Grace cracks me up. I asked her recently what she wanted to be when she grew up and she said to me, "I want to be a pirate. ARRRGGHH!" Oh, it made me laugh. Out of all my children, only Grace would say that.
The children are SUPER excited about next MAY and Disney! The year is going to drag by for them. It will fly by for Olaf and I though.
Need to run. Josiah is hyperventilating. Olaf spanked him and he won't calm down.